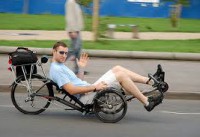 What Are Recumbent Bikes?
When one thinks of recumbent bicycles, one often thinks of the more comfortable recumbent bikes at the gym, not the recumbent bike pictured here.
This is because as far as exercise bikes go, recumbent bikes are now far more popular than upright bikes, as they are both comfortable and great for people with back problems.
The recumbent bikes at the gym are the stationary bicycles with backrests or seats.  The rider is able to ride in a recumbent position (back support) and work the legs harder than he would on an upright bicycle model.
The seats of these types of recumbent bicycles are normally adjustable by sliding them up and down the rail that the seat rests on. There are handles on the sides of the bike and on the console area instead of regular bike handlebars.
Unlike regular bikes that require standing or upright positions, the legs are spread in front of the body in a horizontal position on a recumbent bike. The legs remain horizontal throughout the workout.
A recumbent bicycle, like the one above, places the rider in a laid-back reclining position and this has ergonomic benefits.
The rider's weight is distributed comfortably over a larger area and the back and buttocks are well supported.  On an upright bicycle, the body weight rests on a small portion of the sitting bones, feet, and hands.
It seems that recumbent bikes are becoming more and more popular, especially the exercise version.
There are a variety of recumbent bikes that you can choose. One of a kind famous stretch is the recumbent tricycle. It has two wheels in the back or front. The front wheel is used to drive. There is room for the integration of a second seat at the end.
The Recumbent Tandem has also created ripples in the market. It has reclining seats and is based on a normal tandem bicycle. This type of recumbent bike is the best option for all couples who want to have a great time riding together.
Recumbent bikes are great for going on long tours with because of their comfort levels.
How Safe Is A Recumbent Bicycle On The Road?
One of the big questions that people have about recumbent bicycles is how safe they are to ride on the streets compared to other bikes?
Recumbent bikes also have some disadvantages. They are heavier on the pocket than a traditional bicycle.
Recumbent bikes are less visible on the roads, and they are not as popular as other bicycle models.
For this reason, they are not ideal for riding in a lot of traffic, as motorists might not see the bikers because they are so low on the road.
On the plus side, recumbent bikes are such a rare sight on the roads, and are wider, so motorists do tend to notice them and give them a wide berth when they approach.
Because a recumbent bicycle is not something that you see every day on the road, motorists do tend to pay more attention to them.
Being the operator of the recumbent bicycle, you will be able to see all around you a lot easier than being on a normal bicycle. You can also make eye contact with motorists.
Just a word of caution – don't get too close to the blindside or back of a car or they may not see you being so low.
Riding on a recumbent bike feels a bit like driving a car. You can sit back, relax and view not only in front of you but at the sides as well, as it takes a lot less concentration to ride a recumbent bike.
Recumbent bikes are not the most practical bike for everyday riding or commuting, as there are no luggage options.  You won't be able to wear a rug sack, (unless you wear it back to front) and there is nowhere to put a rack.  But there is nothing that will beat the recumbent bicycle for speed and comfort.
A recumbent bike has a unique comfort level that no other bike can offer, and it really is a unique experience to ride a recumbent bike. The large padded seat is comfortable and there is virtually no stress on the knees and back, which means that anyone with legs can operate one.
Other Recumbent Bike Pros
There are a lot of pros to owning both a recumbent bicycle and a recumbent exercise bike. Here are some of them:
Recumbent bikes allow you to really build up speed on those downhill stretches, as they have a lower centre of gravity and better aerodynamics than normal bicycles do.
A recumbent exercise bike is an alternative type of exercise bike that offers advantages in certain circumstances. Recumbent bikes can provide a good cardiovascular workout, strengthen and tone muscles and burn calories. Their unique design, however, is different from an upright stationary exercise bike and provides a slightly different type of motion workout.
One great advantage of the unique design of recumbent bikes is that it reduces the pressure on the back. Upright Bike riders may feel strain on the knees and back, while work on recumbent bikes is usually safe and comfortable for those with back or joint injuries.
People that are significantly overweight will find a recumbent bicycle easier to use than an upright bike. They are easier to get on and off of and the stability and comfortable ride make it popular with the overweight, the elderly and also people who have health problems.
A recumbent bike puts you in a good posture automatically so there is no hunching over the handlebars, as people sometimes do with an upright bike. You can maintain good posture during the entire workout on a recumbent bike, in order to collect all the fruit you can possibly exercising.
It is easier to read, watch TV or exercise the upper body while training in a vertical position. Since you are already secure, you won't need a lot of strength or balance to hold yourself up. It is so much easier now to grab that set of dumbbells and get working on that upper body and thus make your training more productive.
Recumbent Bikes Have A History
Recumbent bicycles are not a new phenomenon.  These bikes can be traced back to the earliest days of cycling.
Before the shape of the bicycle settled according to Starley's model, there was a lot of experimenting going on, and various arrangements and designs came out with a lot of them very similar to the recumbent bikes of today.  The first illustrations of recumbent bikes date back to the 1860s.
Recumbent bicycles were first considered a separate class of bike in the magazine Fliegende Blatter of Velociped.  The Challand designs of 1897 and the American Brown design of 1901 are both recognizable as forerunners of today's recumbent bicycles.
Recumbent bikes only came to the fore when the world record for the highest speed of a bicycle on the ground was set on a recumbent bike.
A recumbent bicycle holds the world speed record for a bicycle, and for this reason, they were banned from international racing in 1934.
Since then, recumbent bikes have been dragged through the mud in several controversies. The race officials concluded that the recumbent bike won by unfair means. This led to it being banned from any cycling races.
Nowadays recumbent bicycles are available in a wide variety of designs.  You can get a large, small, long to short wheelbase, or a mix of wheel sizes, over seats and under seats.
There are no hands steering models and you can choose whether you want a rear or front wheel drive.
You even get a recumbent tricycle, which is a variant with three wheels and looks like a comfortable adult version of a child's tricycle.
Here are a few you can look at that are available to purchase online. Simply click on the pictures to find out more about them.
For a little more on the history of Recumbent Bicycles, click here.
Looking At Purchasing A High-Quality Recumbent Exercise Bike?
Anyone interested in purchasing a recumbent bike should try one out first in a fitness gym. Different models have different characteristics and it is important to make the right choice with a recumbent bike on the basis of personal preference.
Although exercise bikes are sometimes seen as replaceable fitness equipment, recumbent bikes are often used and owned long-term, so it is always better to get the best new one that you can afford.
A high-quality feature-rich recumbent exercise bike can be bought for a relatively small amount of money.
Schwinn recumbent bikes are certainly not the only high-quality bikes, but they are often bought for perhaps the combination of features and price make them good value. Schwinn recumbent bikes are very popular, and the electronics and computer system keeps you from getting into a rut and bored with your workout. After all, pedalling must be one of the most tedious tasks that you could do, especially if you are not going anywhere.
Schwinn is also known for making equipment robust. Get a bike that is heavy enough so they stay put while pedalling.
Cheap and lightweight machines are a waste of money as they are difficult and uncomfortable to ride. Also, a rocking or swinging stationary bike does not exactly encourage a more vigorous ride, to say the least.
So make sure to get a stationary recumbent bike with a sturdy construction that has a reputation for reliable electronics too.
In this website, I have included tips to remember when looking at purchasing a recumbent bike, as well as articles related to the cyclist that can help them reach their fitness goals.
A recumbent bike is a useful tool to help you get where you want to be and have some fun at the same time with minimum investment and hassle.
Remember – Recumbent Bikes are all about Comfort while Exercising.