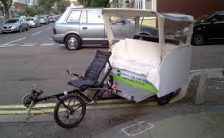 The History of Recumbent Bicycles
The history of recumbent bicycles dates back to the mid 19th century. There were several recumbent bicycle designs around in 1900, but none were very practical.
In between the first bicycle designs, recumbent bikes were thought of, but they were not successful enough to be made yet. The Challand designs of 1897 and the American Brown designs of 1901 are both recognisable as the forerunners of today's recumbent bicycles.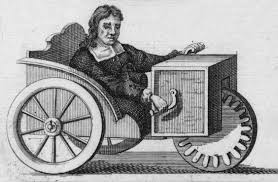 The Velocar, which is a four-wheeled, two-seater, pedal-propelled car, was built in the 1930s by a French inventor and light car builder by the name of Charles Mochet.
These sold very well to French buyers who could not afford motor cars. Velocars were fast but unfortunately didn't get around corners too well at high speed, and would topple over.
Charles Mochet then experimented with a three-wheel design and finally a mould-breaking two-wheel design based on the Vélocar technology.
To demonstrate the speed of his recumbent bicycle, Charles Mochet had the design ratified by the UCI and UVF and enlisted cyclist Francis Faure, who was a Category 2 racer, to ride it in races. Francis Faure was highly successful and he defeated many of Europe's top cyclists both on the track and in road races. He set new world records doing short distances. Another cyclist, Paul Morand, won the Paris-Limoges race in 1933 on one of Mochet's recumbent bicycles.
On 7 July 1933, at a Paris velodrome, Francis Faure rode a modified Vélo-Velocar 45.055 km in one hour, beating an almost 20-year-old record that was held by Oscar Egg. This attracted a huge deal of attention.
In February 1934 when the Union Cycliste Internationale met, manufacturers of upright cycles voted to have Francis Faure's record declared invalid.
In April 1934, The UCI published a new definition of a racing bicycle that specified how high the bottom bracket had to be above the ground and how far it could be in front of the seat, and how close it could be to the front wheel. This sadly banned recumbent bicycles from UCI events.
This ban on recumb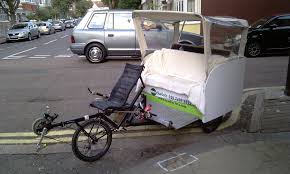 ent bicycles stopped developments of recumbent bikes for four decades. Although more recumbent designs continued to crop up over the years, they were the works of bike enthusiasts and numbers remained low until the 1970's.
Charles Mochet died shortly after the ban, still protesting against it. His firm continued to make recumbents under his widow and later Georges Mochet, his son, until about 1941 for the limited customers that were left. Their final versions were a single-chain design called Velorizontal using a four-speed gear.
Georges Mochet died in 2008.
In the 1970's and 1980's there was a resurgence of recumbent bikes as they make a come back with newer designs , but sadly from 2000, three of the largest recumbent manufacturers in the US went out of business, including BikeE (August 2002), ATP-Vision (early 2004) and Burley Design Cooperative (September 2006).
Hopefully, this is not the end of the history of recumbent bicycles, as they are still popular among enthusiasts worldwide, but I somehow don't think they will ever surpass their upright counterparts.
There is however still a big market for stationary recumbent bikes, as they prove very popular at gyms and also for people with problems that prevent them exercising in a conventional way.
That was a brief history of recumbent bicycles for you. Hope you found it interesting. Please comment below if you have anything further to add.
---