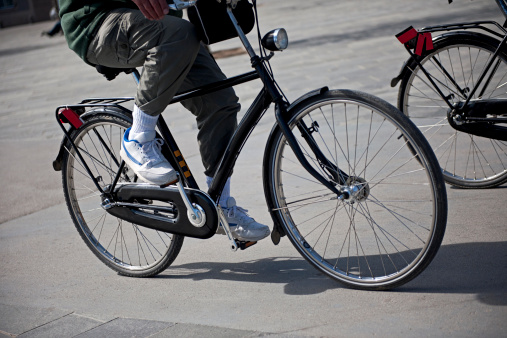 Have you ever thought about getting custom cycling socks?
Whether or not you are a recumbent biker, mountain biker, or road biker, you know that your gear is a vital part of your performance. While shorts and jerseys are of course essential socks are probably the most crucial part of your cycling gear. Why? Because your effort goes through your foot and if you do not feel comfy you'll perform badly.
The most important facet of the sock you should pay very close attention to is the material it is made from. You should avoid pure cotton at all costs as it is a source of blisters. Instead use athletic cycle socks, which usually are a mix of acrylic, nylon, and other textiles. I would not recommend the use of hiking socks for cycling. They are thick and you will get too hot and your feet may swell. Thinner socks are better and your cycling shoe won't become too tight.
Also if you spend money on socks, you may want to check that the toe and heel are reinforced so that the sock lasts.
The height of the sock doesn't matter, but you may want a shorter option for the summer.
Based primarily on this info, you ought to be capable of finding custom socks manufacturers that fit your needs. If you are making custom cycling socks for your team, you'll also need to ensure they can include your brand, colors, and text, if necessary.
Custom Socks is the premier producer of custom cycling socks. You can order branded custom cycling socks from them. You will need to make a bulk purchase.
Custom Cycling Socks You Can Order Online
If you need your custom cycling socks at a good price and a little faster here are some great options. These are affiliate links, which means that I will get a small commission if you decide to purchase a pair.
These socks are made in the USA from Olefin and are machine washable. Olefin is a lightweight, high-performance fiber that wicks moisture and dries quickly, so your feet stay dry and blister-free wherever your adventures take you.
The upper channels provide ventilation for increased breathability, preventing hotspots, and keeping your feet cool.
Moderate compression throughout the arch band gently hugs your feet to support your muscles and keep your socks in place.
For maximum durability in abrasion-prone areas, the toe and heel are reinforced.
This sock is also great for running and golf.
Custom-designed socks with zonal cushioning absorb impact, and the arch band provides a snug, secure fit.
Ribbed traction in the forefoot reduces slippage, and these socks are unisex and come in all sizes.
Not only cycling, but the Dri-FIT 100% textile means these socks are perfect for basketball, volleyball, football, tennis, and other sports.
If you are a wool fan, then this Merino Wool sock is the one for you. Wool is naturally resistant to odors and wickers moisture off of your skin.
This sock is thin enough to get a precise fit within your cycling shoe, yet durable to wear both on-road and off.
These cute cycling socks are machine washable and are made with 85% Cotton, 10% Polyester, and 5% Spandex. They also have a reinforced heel and toe and come in a men's version too.
---