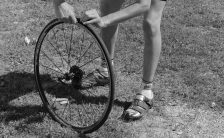 An experienced Cyclists' motto is (or should be) "never walk home". Yet it is surprising just how few cyclists know just how to fix a flat bicycle tire.
Flat tires, broken chains, and bent frames are just some of the common mechanical problems that a cyclist can encounter when they are out cycling. Experienced riders learn quickly that there are not too many mechanical problems that can stop a resourceful and determined individual from completing the ride.
How To Fix A Flat Bicycle Tire
Nothing explains how to fix a flat bicycle tire better than a video. so here is a great tutorial I found on YouTube on how to fix a flat bicycle tire.
Here is a great tutorial I found on YouTube on how to fix a flat bicycle tire.
A cyclist should always be prepared to fix the most common breakdown, a flat tire. A simple tire repair kit should include a tube, a couple of tire levers or tools to aid in removing the tire, a patch kit, and a pump so that you can pump up the tire again afterward. See the products below if you don't have these in your kit already.
The cyclist should also be prepared to repair a tire cut which leaves the tube exposed to the ground. This repair can be made by cutting a 1×1-inch piece of old tube or even by bringing along a dollar bill which can cover the cut temporarily during the ride home.
So what happens if the cyclist gets a flat wheel and does not have a patch kit or an extra tube?
Other Quick Ways On How To Fix A Flat Bicycle Tire
Each cyclist should at least carry an air pump so the tire can be periodically inflated and the ride can be continued. A slow leak can be annoying but you can at least add air each time the tube softens. Fast leaks will need to be sealed. A small piece of duct tape can be used as a temporary patch. The tube will still leak but you should be able to use the "pump and ride" approach that is used with any slow leak.
Another trick to use if you do not have the tape to repair a fast leak is to locate the hole and place this area outside the tire bead when remounting the tire. This exposes the tube to the ground but when the tube is pumped up the tire seals the tube. The tube will bulge outside the tire but it should not blow off the rim unless it is overinflated.
Another technique is to fold the tube back on itself inside the tire so the hole is covered. When the rider pumps up the tire the overlapping tube slows the leak.
So what happens if the rider gets a flat, and has no extra tube and most importantly does not have a pump to inflate the tube? This is when riders must be resourceful and creative. The rider can stuff grass and weeds inside the tire. The more grass the better, as that will help keep the rim from making rough contact with the ground.
In the event the bicycle tire gets ruptured and will not stay on the rim then the cyclist will be left with no choice but to ride on the rim. This makes for a tricky ride but it is possible and should not damage the rim too severely. Rear flats on road bikes will likely cause the most rim damage. The rider should be able to get the bike home while riding slowly and staying off the seat as much as possible.
A cyclist always runs the risks of mechanical problems like flats. These problems can be corrected with a little ingenuity and resourcefulness, even when they find the tools available lacking for the task at hand.
Some Useful Resources You Can Purchase Online to Fix Flat Tires
Simply click on the links or pictures to find out more about these products.
This makes a useful addition to any cyclists repair kit. It is super convenient and will also make a great gift for the cyclist in your life.
MULTI FUNCTION! DAWAY A32 bike repair tool kits has 16 different types of tools. 6 kinds of different inner hexagon wrench, 3 kinds of socket spanner, 3 kinds of flat wrenches, 2 kinds of screwdrivers, 1 spoke wrench and 1 sleeve extension rod. Very practical!

SMALL AND LIGHTWEIGHT, PORTABLE, EASY TO CARRY! This bike repair tool kits is mini enough to be thrown into your bag or pocket. Its weight is only 10oz, super lightweight and portable. Easy to carry out.

DURABLE, QUALITY ASSURANCE! DAWAY A32 bike repair tool kits is made of high-quality carbon steel and ABS material. Fine and professional workmanship, fashion design, durable, stronger and more effective.

TIRE REPAIR HELPER INCLUDED! 3 cold patches(round), 3 cold patches(oval), 2 plastic tire levers, 1 metal rasp and 1 rubber glue are all included. So cool and complete repair kit!

COMES WITH A BLACK TOOL BAG AS A GIFT. A black tool bag will come with DAWAY A32 bike repair tool kits. With this bag, you can carry all those maintenance tools easily. It can be as a traveling tool kit to help you fix most bike problems.
✓ LIFETIME WARRANTY. When you buy our RoadAir mini bike pump you get lifetime warranty plus 100% protection of your money. If you have any problems with our portable pump, do know that we are here for you- Satisfaction Guarantee!

✓ COMFORTABLE & EASY TO USE – RoadAir bike tire pump fits PRESTA & SCHRADER The mini bicycle pump is extremely compact and lets you change the valve type Presta & Schrader as per your preference. RoadAir pump features a sleek design which makes the product easy to use. With a simple design, you can use this tire pump to refill your bike tires and hit the road without wasting any time.

✓ TOUGH AND DURABLE – This portable bike pump made from strong aluminum alloy, this bicycle pump from RoadAir will last for years, providing a long lasting and durable usage. Easy to use and compact to take on the road.

✓ BICYCLE ACCESSORIES & STRONG MOUNT- The bicycle tire pump comes with a strong mouth to keep the mini bike pump attached to your bicycle, no matter where you take it. BIKE ACCESSORIES – With the bike pump, you will find a Hidden Compartment Storage at the black handle of the RoadAir bicycle pump, within the compartment you will find the following three parts: Presta valve, Inflating needle and Tapered nozzle. can be used to serve different purposes, like for inflating balloons, pool noodles, ect…

✓ EBOOK BONUS – The mini bike pump comes with a free ebook to guide you about its perfect use. The book, titled "Cycling For Life" will provide some great cycling hacks with productive workout routines and gear guides.
So next time you get stuck with a flat, you have no excuses. You should now know how to fix a flat bicycle tire.
---