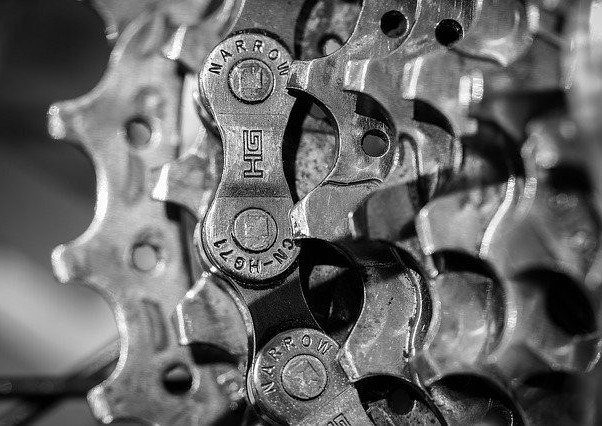 The bicycle chain, believe it or not, is one of the most important parts of a bike, but most of the time bicycle chains are overlooked. When the bike chain is working properly, you don't even realize it's there – but when it's not, it's probably the only thing you think about.
Here are some interesting facts on bicycle chains and how you can buy some of the best bicycle chains online for better prices.
This post may contain affiliate links.
What You Didn't Know About Bicycle Chains
The First Bicycles Invented Didn't Have Chains
If you remember the Victorian-era penny-farthing bikes, they didn't have chains. Cyclists turned the pedals that were attached directly to the front wheel and the only way they could increase their speed was if they pedaled faster. The larger the front wheel was, the easier it was to go faster.
Nowadays there are still some bikes that forego chains in favor of Gates Carbon Belt Drives or Shaft-Drive Systems.
Bike Chains Can Be Used As Weapons
In 1954, a Scottish man was sentenced to three years in prison for assaulting a Glasgow movie theatre manager with a bicycle chain. Across the internet, you can find accounts of bike chains used as de facto whips or weapons.
So know that if your bike breaks down in the middle of nowhere, and you have a chain in your saddlebag, you at least have a fighting chance.
How You Ride Can Affect The Life Of Your Bike Chain
Riding at a high cadence is typically not only more efficient but also cost-effective. The tougher the gear that you are pedaling in, the more the stress on your bicycle chain. In fact, this significantly shortens the lifespan of the chain.
You can also damage your chain by cross-chaining. This is the practice of chaining your big chainring and the biggest cog on your back cassette, or on your small chainring and your smallest cog. The problem is that this stretches your chain diagonally to its limits, and needlessly so since you could just shift to your other chainring and find a similar gear ratio.
Bike Chains Are Complicated
With up to 116 links in a standard bike chain, it has more moving parts than any other bike component.
Of course, you'll need to remove some links depending on whether you're riding a nine-, 10-, 11- or 12-speed drivetrain.
Your best bicycle chain should be long enough that it can be shifted onto the largest front chainring and the largest cog on your cassette without jamming, but not so long that it has too much slack in the smallest chainring and cog. The quickest and easiest way to figure out the proper length for your bike is to use your old chain as a guide.
Replace Your Chain Often To Prolong The Life Of Your DriveTrain
Most experts agree that you should change your chain about every 3,500km depending on your riding style. Many Tour De France riders wear out two or even three chains on their primary bike over the course of the three-week race.
The easiest way to determine if you need a new chain is to use a chain-checker, which measures how badly your current chain has stretched. This is what it looks like and you can order them online by clicking on the picture.
Although a properly maintained chain can technically last nearly 12,000km it becomes much less efficient as it wears and elongates with about two watts of lost power for every one percent of elongation.
The pins and rollers can also wear down with all that grungy grit that sticks to your chan, which could also wear out your gears prematurely. In the long run, you will end up paying more as you will need to replace the chainring and cassette too.
Cleaning Your Chain Is Important
To keep a chain in optimum shape, you need to clean it often.
You can do this by either wiping down the chain with a cotton rag after each ride or use a degreaser made especially for chains like the one below.
If you don't clean it often you may need to use a nylon brush and hot water and soap to scrub it with. Some bike shops even do it for you in the form of ultrasonic cleaning.
After the chain is clean, be sure to dry and lube it, wiping away any excess.
Best Bicycle Chains
Here are some great bicycle chains that you can purchase online and here are just a few of them for you to look at by clicking on either the link or on the picture.
This brown one fits a 6, 7, or 8-speed bike. It's IG compatible and compatible with 6-12-18-21-24 speeds
This bicycle chain is compatible with Shimano, Sram & Campagnolo 9 Speed Systems, and is mushroomed pin riveted.
9 – Speed and chain compatibility.
KMC X10-116L silver chain is a high-quality yet affordable chain for your 10-speed bicycle. New optimized chamfer angles for superior stability in extreme chainlines.
Upgraded outer plate chamfering for minimized cassette tooth interference.
New double X-Bridge structure technology for improved shifting performance.
Applicable to 6.7.8 speed bicycle chain of all brands, efficient and labor-saving, does not hurt the chain
The chain adopts X-bridge design and high-efficiency shifting. It is suitable for all brand upgrades to replace the original chain, electroplating bright silver anti-rust, wear-resistant and durable.
Get your bike chain fixed easily by using this chain breaker!
This bike chain remover is in compact design and portable.
Package includes stainless steel chain hook, all-steel chain cutter, professional version of steel needle, rocker, prop rod, head, chain, and bicycle chain magic buckle.
Always make sure that you carry a spare chain in your kit.
Please feel free to comment below.
---