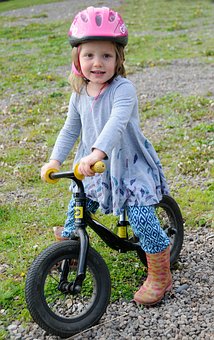 What are the best bike helmets for toddlers and what should I look for when purchasing one. These are questions you should be asking if you are looking to purchase bike helmet for your little one, because after all, his or her safety is the most important thing.
This post does contain affiliate links, which means that if you decide to make a purchase off of this page, the owner of this website will get a small commission.
What Criteria Make Up The Best Bike Helmet For A Toddler?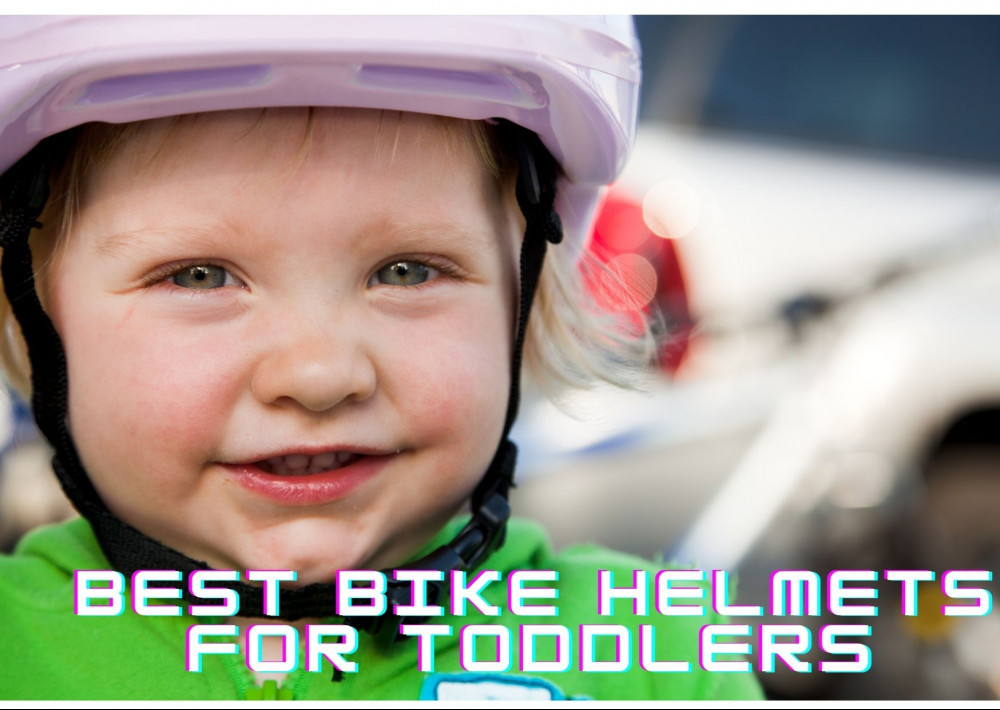 When looking for the best bike helmets for toddlers, the following criteria should be looked at:
the weight of the helmet
your child's age
the fastening or buckle on the helmet
the amount of use you are going to get out of the helmet
the size of your child's head versus the helmet
the amount of ventilation that the helmet has.
It is quite difficult to find a suitable helmet for a baby or toddler because very few are made small enough to fit on small heads.
Luckily you don't have to travel further than your computer screen nowadays, and you will certainly find the best bike helmets for toddlers online if you have a look.
But let's just go over what you need to look for first.
Weight Of The Helmet
Because little necks are not that strong yet, you need to make sure that the helmet is not too heavy. The lighter it is, the more comfortable it will be for your toddler.
If the helmet is heavy or uncomfortable, your little one is going to refuse to wear it.
Age Of Your Child
Before you purchase a bike helmet for your toddler, make sure your baby is ready for it. He or she does need some neck strength before you introduce additional weight to the top of their heads.
From about 12 months and older you could look at getting a helmet for your child.
Type Of Fastener
Because toddlers are busy and wiggly, you will need a bike helmet that clips together quickly and easily. Beware of buckles that look like they will pinch the delicate skin under your child's chin, or you will have lots of tears to contend with.
Look for helmets with magnetic or ratchet-style buckles as these will be more comfortable and easier to get on and off.
Size Of Your Child's Head
Make sure you know the size of the circumference of your child's head before you order the helmet. Your child's head circumference should be on the lower end of the size range so that you have room to grow and won't need to replace the helmet too quickly.
Don't order a helmet that will be too big either, as this is unsafe.
Ventilation
Smaller bike helmets are known to have less ventilation, so make sure the helmet that you are purchasing has some vent holes, especially if your little one is pedaling his own bike. He will get hotter than if he were just sitting at the back of your bike.
Amount Of Usage
Look at what your child is going to be using the helmet for most of the time. If they are riding a bike, look for good ventilation, as they will get warm.
If they are sitting in a trailer or bike seat, look for a helmet with a flattish rear. This will make it more comfortable for your child to lay their head against the back of the seat.
If you want to be extra sure that your child's head is protected to the max, you could also look for a helmet with MIPS technology. MIPS provides an extra protective layer that mitigates against rotational force to your child's head in the event of an impact. MIPS stands for "Multi-Directional Impact System." It's a technology being implemented in more and more top-of-the-line helmets to better protect against "rotational violence." In other words, it protects against falls where the head hits at an angle.
The Best Bike Helmets For Toddlers Available Online
To find out more about any of these toddler bike helmets, simply click on the link or on the picture.
The Giro Scamp is one of the best toddler bike helmets on the market with MIPS technology and they specialize in small heads.
This bike helmet is engineered in Giro's category-leading helmet test lab.
The helmet utilizes the Multi-Directional Impact Protection System to redirect energy in a crash.
Comfortable and easily adjustable vertical position and tension.
There is a special pinch-guard buckle to prevent tears.
Complies with the US CPSC Safety Standard for Bicycle Helmets for Persons Age 1 and Older (Extended Head Protection).
8 air vents to keep your toddler cool.
In-molding construction.
Comes in many fun colors so your child can pick out his or her favorite.
This Giro Scamp has all the same features as the one above, but the style and design is slightly different.
This unicorn helmet is any little girls dream helmet.
Dual certification: Passed CPSC 1203 & ASTM 1447.
Additional Inner pads' area and thickness increase comfortable feeling for infant. Inner pads are removable and washable.
The dial adjusts the helmet's internal fixation base on the head circumference, the button adjusts the tape length to achieve longitudinal fixation.
11 air vents & 6 channels add the cooling and moisture removal function.
Your toddler will ride in style with this classic helmet. It is designed to fit heads 48 – 54 centimeters in circumference.
The chin strap and interior are adjustable to ensure a snug and safe fit as your child grows.
This helmet passes U.S. Safety Standard for Bicycle Helmets.
The easy-to-use safety buckle secures the helmet in place.
The helmet dimensions are 21.25" L x 18.9" W. For ages 2 – 5 years.
Adorable 3D teddy design brings this helmet to life.
This helmet is for kids ages 1 to 3 years old.
Dial fit system offers 360° adjustability for the perfect custom fit.
Full coverage micro shell provides enhanced protection.
Vented design provides air flow for hot summer rides.
Complies with U.S. CPSC Safety Standard for Bicycle Helmets for Persons Age 1 and Older (Extended Head Coverage).
Schwinn is another great name in the world of cycling.
I hope you enjoyed my article on what to look for when searching for the best bike helmets for toddlers.
Please comment below if you have any other suggestions.
---