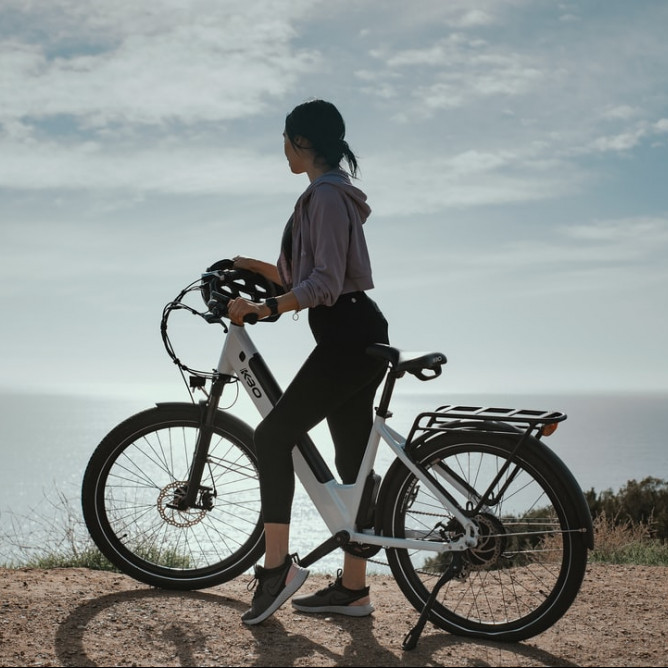 If you are wondering to yourself, 'should I buy an electric bicycle,' I hope to answer some of your questions in this article.
What Is An Electric Bicycle?
When I first heard the word 'electric bicycle,' I thought that maybe it was a scooter or a type of electric motorcycle, but boy was I wrong. Electric bicycles actually look a lot like regular bicycles, but they have several electrical components added like a motor, battery, and a controller. All these things are seamlessly integrated into the design of the bike and these components make up the fundamentals of all the electric bicycles on the market today.
Should I Buy An Electric Bicycle?
So that you can make an informed decision of whether or not an electric bicycle is for you, I have compiled a list of pros and cons to you to take into account. This list may be helpful to you as you navigate the world of electric bicycles in search of the perfect bike for you.
The Pros And Cons Of Owning An Electric Bicycle
Pros:
Cheap Transportation
When you compare an electric bicycle to other modes of transportation, they are one of the cheapest ways to get around town. No petrol or gas, transit fares, special licenses or registration, and no parking costs.
Charging the battery is cheaper than buying fuel, as you only pay for the electricity used. The bikes are cheap to run and save bike owners money that can be used to do other things.
There is no emission of greenhouse gas and they reduce traffic jams on the roads.  Thus the use of these electric bicycles  reduces pollution of the environment and thus we can do our part in addressing global warming.
Health Benefits
A great way to introduce some physical activity into your daily routine and improve your overall health is to ride your bicycle out in the open air each day. You will still be getting some exercise, and you can control the amount of asistance that you get from the motor. So if you feel you need more exercise, you can pedal more and use the motor less.
The joy of having an electric bike is you can tailor the difficulty of the ride according to your fitness levels, so this is a great option for people who have asthma, heart problems or are generally unfit.
Riding An Electric Bike Keeps You Awake
The electric bicycle is great to ride to work in the morning as the wind drives away the sleep and makes you ready for the day. Riding your bike to work rather than driving your car also gives you more time in the fresh air.
Travel Further
Because you are getting assistance from the electric motor, you will be able to ride further than you would normally have. The amount of effort required to cover 20 miles on a conventional bike for example will allow e bike riders to go 40 miles with the same amount of effort.
Arrive At Work Sweat Free
One of the biggest drawbacks to using a bicycle for your daily commutes is showing up at your destination hot, sweaty, and uncomfortable. By using an electric bike, however, you can complete the exact same distances while exerting only a portion of the physical effort.
Tackle Obstacles With Ease
Because electric bicycles have that extra boost of power, you can now zip up hills and plow through headwinds like a pro without getting burned out.
Ebikes Are Quiet
Unlike motorbikes, your ebike operates as silently as a mouse.
Great For Beginners
Electric bicycles are great for beginners, especially unfit beginners as they will take a lot of the pressure off of your legs. As you get stronger you can adjust your bike accordingly, or simply just enjoy the ride.
Cons:
The Price
Electric bikes are expensive, so there is a significant upfront investment compared to buying a normal bicycle.
Although if you compare it to other modes of transport, then the price of the electric bike won't seem that bad long term.
It's Heavy
Electric bikes are noticeably heavier than conventional bicycles. But this only becomes a problem when you need to pick it up to transport it, or have to push it home because the battery has died.
You Get Wet
Yip it does rain from time to time, and if you came to work on your electric bicycle, then you may have to ride home in the rain. However a good ride in the rain can be quite invigorating.
Batteries Can Take A Long Time To Recharge
But hopefully this changes in the future, as technology is developing all the time.
Also, as the battery ages, the distance it covers reduces. Older batteries need regular recharging reducing the productivity and convenience enjoyed before.
Legal Status Is Confusing
Because electric bikes are pretty new still, there is some confusion when it comes to the way that they are viewed by the law. In general electric bikes with a maximum speed of 20 mph and morors rated at less than 750 watts are treated the same way that other bicycles are, which means that they can be ridden on bike paths and in bike lanes and don't require any any special licensing or registration.
There are some places that have a different set of rules that may limit or change the way you are allowed to use your electric bike, and for this reason you need to check the rules in your specific city or state before you buy your electric bicycle.
Parts Can Be Expensive
Electric bicycles have more complex and specialized parts, and while most o them are standard bicycle components that are easy to replace and repair, there are also a handful of components that are unique to ebikes.
These parts can sometimes be harder to find and also be more expensive to repair.
Conclusion
Electric bikes, although far from perfect yet, can help riders of all ages, skills and physical abilities live more active lives.
Being aware of the challenges involved with buying and using an ebike, will make you a well-informed, and savvy consumer, ready to make the best decisions when it comes time to select and purchase an ebike of your own.
As you make this decision, keep in mind that while there are certainly disadvantages to owning and using an electric bike, it seems that many people have decided that the advantages of riding an ebike far outweigh any potential drawbacks.
Perhaps this is one reason why electric bicycles are fast becoming one of the most popular and widely used forms of transportation in the world today.
So do you think it is worth it to buy and electric bicycle?
---