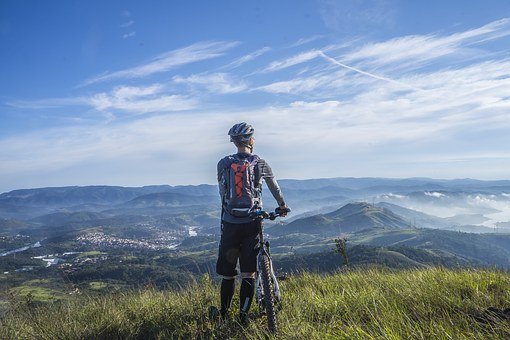 Finding top mountain bike helmets is very important because riding over rough terrain will mean that you need added protection for your head, as the chances of wiping out and hurting yourself are much greater than if you were riding on smoother terrain.
This post contains affiliate links.
There are many wonderful, and hard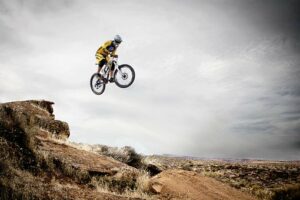 -wearing mountain bike helmets on the market that you can select from and if you look online you may be lucky enough to pick them up for a tune.
What To Look For In A Mountain Bike Helmet
Here are some points to check when purchasing your mountain bike helmet and you may choose all or some of these features:
Make sure that it fits properly. It mustn't be too loose or too tight, but snug. Measure around the largest part of your head to get the right circumference. These are the sizes you will find, but note that different brands may differ slightly -:

Extra Small: below 20″ (51cm)
Small: 20″–21.75″ (51cm–55cm)
Medium: 21.75″–23.25″ (55cm–59cm)
Large: 23.25″–24.75″ (59cm–63cm)
Extra Large: above 24.75″ (63cm)

Make sure that it matches your style of riding. There are three categories, road bike helmets, recreational bike helmets, and of course mountain bike helmets.
A mountain bike helmet should have more rear coverage, as mountain bikers are more likely to fall backward than road riders are.
The helmet's plastic shell should allow the rider to slide during a fall to protect the head and neck.
The liner should be made of high-grade styrofoam to allow the helmet to take impact.
Multi-directional Impact Protection System (MIPS) technology, found on helmets in a number of brands, features a low-friction layer that redirects rotational effects by allowing the impact-absorbing foam liner to rotate slightly during an impact. You may like to consider this if you are a frequent rider.
SPIN (Shearing Pads Inside) technology is found on some helmets and features silicone-injected pads in a structure that moves inside the shell to redirect rotational forces during an impact.
Helmet vents enhance wind flow over your head, keeping you cooler and more comfortable as you ride. The more vents you have, the lighter the helmet will be.
You may like having a sun-shielding visor, and they are common on mountain bike helmets.
Some top mountain bike helmets have a wraparound chin bar to provide face protection for downhill mountain biking or racing.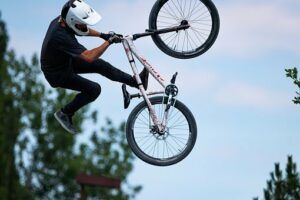 Remember to replace your mountain bike helmet if:
you have an accident, as most bike helmets are designed to absorb a single impact, so even if it looks ok, rather get a new one.

If your helmet is crash-free but older than five years, it also needs to be replaced as over time it deteriorates with pollution, UV light, and other forms of weathering.
Top Mountain Bike Helmets You Can Purchase Online
If you know what you are after and you know your size and brand, you will usually save by ordering your helmet online.
Here are some great picks, and if you want to find out more simply click on the link or on the picture.
This mountain bike helmet is US CPSC standards certified. The material of thickened multi-density EPS foam inside the helmet absorb impact energy effectively to minimize the risk of harms to the head in an accident.

Extended rear shape guarantees full protection to the cranial part of the head. 

You will benefit from optimal ventilation with 18 air vents. This top mountain bike helmet only weighs 280g. 

Single-Hand dial retention system makes it easy to adjust and secure the cycling helmet for the perfect fit on your head.

Reinforced Large Sun Visor which is easy to move upwards.
The bicycle helmet is made of a strong PC shell and high-quality EPS foam, providing more safety with the integrated-molding technology.

The helmet size is 56-61 cm (22-24 inches). Suitable for adults, men, women, youths, and teens.

Chin straps and rear dial adjustments are easy to adjust for a custom fit.

Designed for various mountain biking activities, especially for enduro and trail. By detaching the visor, it is suitable for a road bike in the city.

Lightweight material and 16 air vents keep you cool.

Soft inner pads, chin straps, and chin pad provide more comfort.
Adjustable Size: 22.83 – 24.02 inch (58-61 cm).
PC shell with EPS hard foam provides reliable protection in a low-profile design. Meets CPSC and EN 1078 standards for biking and skating.

Featuring our Crank Fit dial-adjustable fit system, tried and true EPS/PC construction, and a moisture-controlling premium replaceable liner.

The lightweight, the in-mold shell has 11 vents and internal channeling for maximum airflow to keep you cool all day long.

Safety Colorful Flashing Tail Light, warning the Cars, or help other riders to see you.
High density and lightweight EPS foam and PC material, Eastinear bike helmet could greatly help to decrease and buffer on impact. The soft pad can absorb the pressure caused by external impact. 

A streamlined structure with symmetrical and large air vents is the key to provide users the extraordinary ventilation and heat dissipation.

Super lightweight at only 207g.

The super bright LED taillight on the back makes for safer night cycling.

Eastinear bike helmet provides tridimensional adjustable regulation with an up-down and circumference adjustment. 
Superfit designed for the purpose of Asian and Western head shapes.  

Clean Tex Pads are specially treated and therefore as a consequence, will have long-lasting hygienic freshness

Chin pad Optimal wearing comfort in the chin area.

Lightweight at 550g.

Actively ushers cool air over your head and regulates temperature by drawing cool air into the intake ports and circulating it through a matrix of air channels.

Complies with CE EN 1078 CPSC 1203 AS/NZS 2063 safety standards for a helmet for cycling and use with skateboards and roller skates for persons age 5 and older.

In-mold polycarbonate shell with EPS liner. The inner shell has Thermoformed reinforcement shock absorbing polystyrene.

Removable protective chin bar, designed for trail riding adaptability. Plugin with a simple 1-step connection process no tools needed.
Best of luck with your top mountain bike helmet purchase, and please comment below with your own helmet experiences.
---