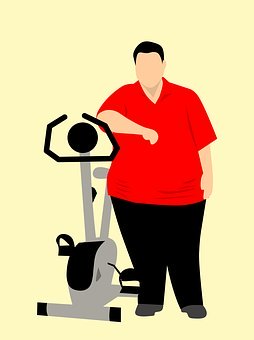 If you are looking at buying an exercise bike, you will first of all need to decide what type of exercise bike you will need and what will suit your purposes and your pocket the best.
First, you need to decide whether you want a recumbent exercise bike or an upright exercise bike.
If you are a cyclist in training, you will probably prefer the upright exercise bike, but if you prefer comfort and you want a bike you can use right into your old age, then the recumbent exercise bike may be the best choice for you.
This post does contain affiliate links.
Cost is another important component that you should think about. In essence, there are three categories of costs: low-cost (under $ 500), moderate cost ($ 500 – $ 1000), and expensive (over $ 1000).
If you're on a budget there are many models under the $ 500 mark, but the quality of some of these isn't as good. The bike may be a bit more unstable, not as comfortable and the computer system will also be very basic. Remember that you need to enjoy riding on your exercise bike, so a cheaper model that doesn't feel good to ride may put you off exercising, so you need to think about that aspect if you go for a cheaper bike.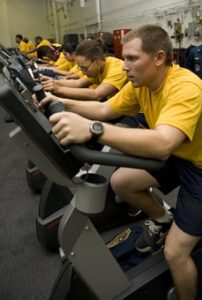 Most people are pretty satisfied with an exercise bike that costs in the region of $500 to $1000 and this is probably the best price range to look at when purchasing this piece of equipment that you will want to last for years.
Bikes that go above the $ 1000 mark are usually very fancy and innovative, and these are commonly found in gyms and fitness clubs.
If you are looking to purchase an exercise bike online, here are some options for you to look at in all the different price ranges.
Exercise Bikes Online
If you need to find out any more about the bikes below, simply click on the link or on the picture of the bike.
Under $500
The YOSUDA indoor cycling bicycle is a smooth, durable, and easy to maintain exercise bike.
In addition to its sturdy steel frame and nearly silent belt drive, the YOSUDA cycling bike features many customizable settings. It is decked out with a 35 lbs flywheel, LCD monitor and water bottle holder. 2-way adjustable handlebar and 4-way seat provide comfortable riding. Transportation wheels make it easy to move. Maximum user weight: 270 lbs.
The Exerpeutic Folding Magnetic Upright Bike with Pulse can be folded up and rolled away when you are finished exercising.
It is also designed to support up to a weight capacity of 300 lbs. Features like the "high torque" 3 piece crank system, magnetic resistance, heart pulse monitoring, and a "double drive" transmission system are all included for a very affordable price.
Larger pedal design with a safety strap prevents any foot slippage when exercising. Large seat cushion for people of any size which is easily adjustable.
The Slim Cycle has 8 levels of adjustable resistance so you can amp up your workout. When your workout routine starts to feel too easy, simply turn the dial to increase Slim Cycle's resistance. The higher the number, the more challenging the workout!
Whether you want to boost your cardiovascular endurance or shed pounds, the Marcy Recumbent Exercise Bike is the perfect workout equipment to add to your home gym! Save on gym memberships and make your abode into your new favorite workout place with this exercise bike. Shed weight and gain muscles by engaging in a full-body workout in your own home!
This bike is made of premium 14-gauge steel tubing, PVC, and rubber, the workout bike has a high-quality structure that combines design and performance with a powder-coated finish. Sturdy enough to resist scratches, chips, and damages from the environment, ensuring that it will withstand heavy daily use.
The specially designed seat with contoured handles facilitates proper body form allowing your body to conform precisely to the equipment, helping your workout take maximum effect on your target areas. The step-through design is created so that it is easier on the knees and back.
Between $500 and $1000
Connect with the Peloton and Zwift apps, allowing you to stream thousands of classes directly into your home and compete against others in a virtual world that motivates you at every mile.

Access the Explore the World app and digitally imillimetererse yourself in a world of virtual races, exotic locales, and stunning trails from around the globe. Coming Soon (3 free courses, unlock more with Explore the World app).

Magnetic resistance with 100 micro-adjustable resistance levels.

Dual-link SPD foot pedals come standard with toe cages or clips.

Full color backlit LCD console monitors heart rate, speed, time, distance, calories, and RPMs.
The name Schwinn speaks for itself.
Bluetooth connectivity, syncs with the Schwinn Trainer App and other apps for fitness tracking.

Sync with free downloadable RideSocial App and see the world as you virtually ride alongside friends in real-time.

29 programs: 12 profile, 9 heart rate control, 4 custom, 2 fitness test, 1 quick start. Plugs into any standard electrical wall outlet on a 110V-120V circuit. 120V 60Hz AC input; 1.5A output. 90-240V, 50-60Hz adapter included.

25 levels of resistance for a wide range of workout intensity options.

High speed, high inertia drive system with a perimeter weighted flywheel for easy start-up and smooth, consistent workouts.

DualTrack LCD displays, media shelf, in-console speakers with an MP3 input port, USB media charging, and adjustable fan.
With enhanced Bluetooth connectivity, users can set, track, and monitor progress with popular app-based tracking tools like Explore the World, MyFitnessPal, and more.
Track your distance, speed, pace, and calories.
Over $1000
Interactive personal training at home powered by iFit; 1-year iFit membership included with your exercise bike; Gain access to on-demand, interactive trainer-led global and studio workout programs ($396 value).

22 inches interactive HD touchscreen display streams on-demand iFit workouts directly to your equipment and provides easy stats tracking; Adjustable display mount allows for 360-degree screen rotation.

-10 to 20 percent live incline matching technology; 24 digital resistance levels for complete workout control; Watts readout tracks your power output.

SMR Silent Magnetic Resistance delivers a smooth, quiet workout with every use; Adjustable leveling feet stabilize your bike; (2) 3 pounds dumbbells for cross-training on your bike.

350-pound user weight capacity; 10-year frame warranty; 2-year parts warranty; 1-year labor warranty; NordicTrack is the only authorized seller and Amazon is the only authorized reseller.
So whether you choose the cheapest option or the most expensive one, make sure that you are comfortable with your decision because your exercise bike will be an investment for years to come.
---