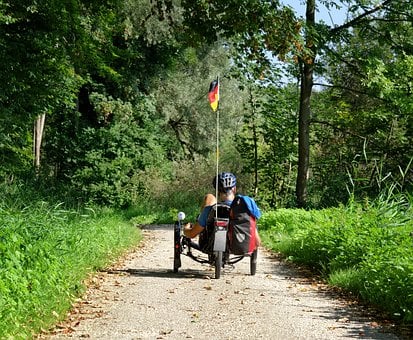 Let's look at what's available in the Mobo Triton Range of Recumbent Bikes online at the moment. It is so convenient to order online if you already know what you are looking for as you can normally pick up your choice of product at a much cheaper price.
The best thing about the Mobo Triton tricycle recumbent bike is that it is great for riders who have problems riding a normal bike. The bike features an ergonomic design making it comfortable to ride for long hours.
The Triton was favored as a rehabilitation aid, by people suffering from back and neck problems. Riders found this trike easy to adapt to and control. The Triton Pro is adjustable, allowing it to be used by shorter and taller riders. It also suits growing children and teens.
They are also a lot of fun to ride and the kids will enjoy them too.
Before I show you the bikes, here is a list of cons to take into consideration before you buy the Mobo Triton Recumbent Bike.
Cons:
This bike is slower than conventional upright bikes.
It cannot ride in reverse.
Doesn't handle dirt roads so well.
The seat cannot be adjusted to sit higher off of the ground.
No gears.
Does not handle steep hills very well.
It is very low on the ground, so if you battle to get up off the floor, you may battle to get on and off of this bike.
This post does contain affiliate links, which means that if you decide to purchase anything off of this page, I will get a small commission at no extra cost to you the buyer.
The Best Mobo Triton Recumbent Bikes Online
If you want to find out more about any of the Mobo Triton Recumbent Bikes listed below, simply click on the blue link or on the picture.
Enjoy the outdoors with this adult tricycle for men and women.
Designed for cruising and exercising on flat paved surfaces and gently sloping terrain.
Low Impact Exercise, but you still get a cardiovascular workout with minimal stress on your back and knees, so great for people with back and knee problems.
The reclined seat provides evenly cushioned support. An outdoor tricycle for seniors and all adults who prefer a more stable and comfortable ride
No Balance Required and the low center of gravity provides maximum stability.
Dual-joystick steering offers smooth maneuverability with simple hand movements.
This Mobo Triton adjusts easily to fit adults and young riders from 4'2" to 6'3" and weights up to 250 lbs.
Durable Design with a strong steel frame.
No-maintenance chainless design.
Free-wheel single gear hub with caliper brakes and a safety flag.
Overall Dimensions – 28″W x 29″H x 48″L (61" extended); Wheels: 20" front, 16" rear; Weight 44 lbs.
Mobo Cruiser is a US Company with US customer support.
Easy to assemble.
This bike is generally a larger version of the one above.
This recumbent bike is aimed at children from 7-12 years old.
41″ Length/ 51″ Extended .
Hand Caliper Brake.
Cushioned Seat 11″ above the ground.
16″ front  and 12″ rear inflatable rubber tires
This child's recumbent bike features an adjustable frame, suitable for riders from  3 feet 8 inches tall to 5 feet 2 inches tall and weighing up to 200 lbs.
This is a children's recumbent bicycle and is great for a girl who loves pink.
Unique steering system and versatile maneuverability offers an easy and comfortable workout
High Strength steel can hold up to 220 lbs.
16″ front wheel and 12″ rear wheels
8 slots adjustments in length to fit people from 3'5″ to 5'5″
Actual size of the Triton: 52.5″ (L)/ 63″ (L-extended) x 28″ (W) x 27.5″ (H)
---