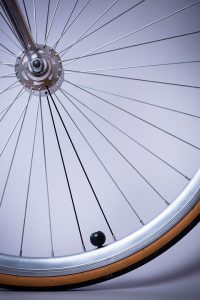 Have you ever wondered how bicycle rims and tires came about, and how you can purchase them online?
The History Of Bicycle Rims And Tires
The first bicycle wheels were from a horse drawn cart was made of wood with a metal band around the bicycle rim. This made for a very hard and very uncomfortable to ride. Then a man called Dunlop (Scottish) invented a tire. Macadam (another Scot) then invented the tar road surface, which made cycling a lot more comfortable.
Over time, the bicycle rim, like the bicycle frame hasn't changed much in design. It has stayed round and I think will always be that way.
Bicycle Rim Materials
Rims were first made of wood before they were changed to steel. Now they are even made with carbon. If money isn't a problem, go for carbon, as this is both strong and light. The only draw back with carbon is that they don't brake well in wet weather. Special brake blocks are needed to use with carbon which is pricey. Steel is heavy and if it is damaged, it is difficult to pull back into shape. On the other hand, steel is strong, so it is quite difficult to bend in the first place.  Steel is also the cheapest material to use.  Bicycle rims made of an alloy are probably the most popular at the moment, as it can be made into any shape with ease.
Bicycle rims can make a huge difference to the way that your bicycle handles, as its weight can affect your sprinting and climbing, as well as the way your bike rides on flat long roads.
Once you get your bicycle going, a heavier weight can help to keep you going. A flat rim is best for climbing, as aerodynamics are not so important on a hill. A deep section aero rim will help you cut through the air, but in a cross wind that would cause handling problems.
What Types Of Bicycle Rims And Tires Should You Consider?
There are also two types of bicycle rims to consider and this depends on which kind of tire you want to use.
Tubular tires are glued onto the bicycle rim and they cost more and are difficult to repair after a puncture, but for racing, they feel and ride wonderfully.
Clincher tires have improved a lot recently and are nearly as good as tubular tires for performance and are easily repairable and more reasonably priced. Most manufacturers make all styles in both systems.
So which should I buy? Not an easy answer, as there is so much to choose from, years ago you went to your local bike shop, picked out which hubs, spokes, and rims you wanted and he would build your wheels, but now most rim makers also manufacture their own wheel sets,
Nowadays, there is a lot to choose from, but in the end, the choice is personal to you and your bicycle needs.
Bicycle Rims And Tires That You Can Purchase Online
If you want to find out how you can purchase the following Bicycle Rims and Tires online or see similar products, simply click on the link or the picture to find out more.
Made using the highest quality materials.

Tested for durability.

Used by expert riders worldwide.

STW ST1 single wall 36h rim.

Alloy front loose bearing hub.

Quick release axle.

Silver hub / silver spokes / silver rim.

UCP spokes.
Stars Brand Lightweight Alloy 43-millimeter, double-wall Super Deep V Rim.

New Retrospect High-Flange Sealed Bearing Hubs ride smoother, last longer, require less maintenance; Include flip-flop hub in back; Ride fixed or free.

Includes Kenda Kwest Tires, the perfect commuter tire designed with smooth rounded tread with large water dispersion grooves.

Perfect for your fixed-gear, single-speed, commuter, track bike, or road bike.

Aerodynamic, lightweight and hand-built to last.
Known around the world for its legendary puncture protection and durability.

The reptilian design sets the tone for eating up those miles!

Superior puncture protection comes via Continental's Poly X Breaker.

Extremely long service life through wear-optimized tread compound.
The Continental Gatorskin is the ultimate training & racing tire where puncture protection is a priority. Using the latest proprietary technology against flats the Gatorskin range uses PolyX Breaker and DuraSkin sidewall protection.
The Gatorskin tire is made for the long haul. Backed by PolyX Breaker, a tried and true puncture protections system and the DuraSkin anti-cut fabric turn the Gatorskin into a true long distance runner.
---