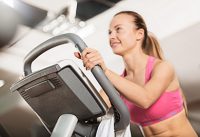 If you cycle indoors, then it is a great idea to have some music playing that you can cycle to. Here are some indoor cycling music ideas for you. Nothing makes a workout more enjoyable than some fun music playing in the background.
When you go to an indoor cycling class, regularly referred to as a spinning class, there is usually music playing in the background, which helps you to get your 'cycling beat' going, as you will automatically begin cycling to the music.
Upbeat music fuels your muscles, as your feet pedal with a variety of intensities from a standing posture. The instructor will constantly be motivating and pushing the class to push harder by using various techniques, such as visualization. The background music and the mental picture make for one of the most adventurous and effective methods to losing weight fast. It can be very challenging, but it's also a lot of fun.
The music is sometimes what keeps you going, so it's a significant part of the overall spinning class experience. Instructors typically have a programmed list of songs, but most will listen to recommendations. If techno or hip-hop isn't your thing, then there are plenty of classic rock songs that are more than suitable for indoor cycling. Here are a few to consider. Some of them have coaching included, which make them great indoor cycling music to play at home when you are on your own.
If you are interested in finding out more about the albums, simply click on the product. These are affiliate links, which means that the owner of this website gets a small commission for any products purchased.
---