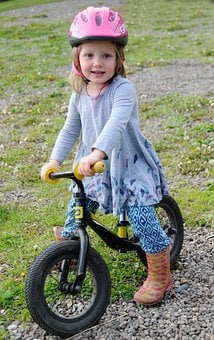 Your child's very first bicycle will definitely be a source of fun and joy for him or her. You will not only be giving your child hours of healthy entertainment, but you are also going to instill an invaluable skill into them that will last a lifetime.
There are lots of factors to consider when choosing your child's very first bicycle including the child's age, sex, and preferences. Children can start to ride a bicycle anywhere from 1 1/2 years and up. If they are still toddlers they can start with a balance or strider type bike like this one that you can stop with your feet.

The great thing about strider bikes is that your child won't need training wheels and thus he will progress a lot faster. The only problem with strider bikes is that your child will normally outgrow them in about a year, so don't spend too much on this type of very first bicycle.
This post does contain affiliate links, which means if you decide to purchase anything here, I will receive a small commission at no extra cost to you. The reason that I promote bikes online like this is that they are always way cheaper than the ones you will find in the store.
Best Bikes For Youngsters
The most popular kinds of bikes for kids are road bikes, BMX bikes, and mountain bikes. Of these, a road bike is best for a first-time purchase. These are designed for riding mainly on smooth flat surfaces.
Mountain or BMX bikes can come later on after your child has more experience. Trail bikes are good for off-roading, while BMX bikes are best for stunts.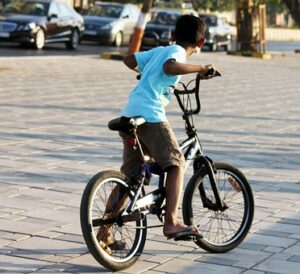 Let your child choose his own bike, as they will choose a bike that they like the look of and will be more likely to ride something that they like more often.
Try to avoid gimmicky bikes, like ones with cartoon characters on them, as your child's preference may change or they may outgrow that character in a short period of time.
Going for his favorite color is always a good idea, as this normally remains a constant.
Choose the Right Size
Size is a serious factor when buying a child's bike. A bike that's too little will be uncomfortable to ride and one that's too large will be tough to control. Having the ability to control the bike easily is essential when a child is first learning how to ride.
The handlebars must be easy to reach and the pedals also must be within close range, and your child should be well placed to put his or her feet on the ground without having to get off the bike. It is very important to let your kid get a feel for the bike before he goes anywhere on it.
Don't be tempted to buy a bike that is too big as this is dangerous for your child, and he won't be able to control it very well.
The Bicycle should have a low stand-over height so if they do fall, they don't have far to go. The handlebars should also be nice and high so the child is upright and aware of his or her surroundings.
Consider Coaching Wheels
This is a question that's best answered based mostly on your child's size, confidence with a bike, and capability to control it. Some bikes are as low in height as 12″. These are often simple for smaller kids to learn how to ride without always wanting coaching wheels. If your child needs a larger bike or is doubtful about balancing it, look for a bike with coaching wheels. Your kid's heart might be set on a bike that does not come with training wheels. Fortunately, you can buy the wheels separately and install them.
Make Safety a Concern
One vital feature that must be checked out is the brakes. Bikes will have either a group of brakes found on the handlebars or coaster brakes. Coaster brakes are often considered safer for younger youngsters. Most younger kids lack the motor abilities required to properly operate hand brakes. Having the ability to stop safely and swiftly will avoid worrying accidents. Be certain to buy a helmet at the same time you buy the bike.
If the bicycle has brakes, make sure that your child's hand can fit around them, as some brakes are too big for little hands to work properly.
Children's Bicycles You Can Purchase Online
This pretty pink bike is designed for girls between the ages of four and six. It makes a wonderful very first bicycle.
It is easy to put together as 95% of the bicycle is already in place when it is shipped to you.
It has front caliper brakes and a rear coaster brake to offer double safety for your child.
Comes with training wheels which is great for a child who has never ridden before.
There are quite a few sizing options available.
This Schwinn bike is for children between the ages of 3 and 7 years old. Girls will also love this attractive design, and as with most Schwinn Bicycles, the quality is really great.
The bicycle has a light frame and smaller grips and a small seat for little people.
It has a rear coaster brake, which means you simply reverse the pedals to stop as well as a front caliper brake.
The saddle adjusts so the bicycle can grow with your child.
The bicycle comes with training wheels, a saddle handle, a kickstand, chainguard, and even features a number plate.
Unique, strong, and durable bicycle specially designed for boys (but frankly I would choose this one as I love the blue).
This bike is available in many child-friendly sizes from 12 to 18 inches and also comes in a variety of colors.
This beginner Schwinn bicycle is another great buy for a beginner. The bike features a parent push handle that can actually steer the bike and when the child can ride alone it can be removed.
The fully enclosed chain guard keeps children clean and safe while the front and rear fenders keep the road grit off.
Heavy-duty training wheels are included which can also come off. It also has a water bottle cage. The quick-release seat post and quick release alloy saddle adjust easily as your child grows taller.
Those are my favorite picks for a child's very first bicycle. Please feel free to comment below and let me know what you think.
---