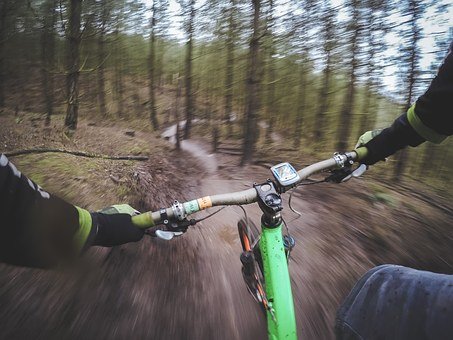 You've decided to take up the exciting and challenging sport of mountain biking. You are probably wondering what do I need to start mounting biking? Unlike casual biking, you willneed much more than just a helmet to ensure that you have a safe ride as you hit the trails.
This post may contain affiliate links. This means that if you purchase any products here, I will earn a small commission at no extra cost to you.
Mountain biking is such a popular sport that there is now a vast range of accessories for both men and women. Make sure you do a bit of research on each item you want to purchase to make sure you buy the best quality you can for the amount of money you want to spend.
Even if there are no mountains where you live, If you are keen you can always take a trip to the country over the weekend to ful fill your passion. You can also ride a mountain bike in urban areas, as they are very comfortable and sturdy. Personally I love the fat tires and as long as they are properly inflated, they can go almost as fast as the thinner tires of road bikes. But in this case you can take on curbs with ease.
If you're a bicycle enthusiast, but have only tried cycling on the road, it's time you gave mountain biking a try. By mountain biking, I mean more than heading down an actual mountain – although that what most people think about when they hear the phrase "Mountain biking."
However, mountain bikes – light bikes with fat tires and front suspension – make it easy to go cross country riding as well.
Here is a great example of a mountain bike.
This particular model is a Schwinn Mountain Bike. Schwinn is a well known bike brand and their bikes are durable and strong.
This one is designed for both trails and neighborhood rides. It has wide knobby mountain tires which sit on durable alloy wheels for added stability. The Twish shifters with rear deraileur enables quicker gear change while out on a trail.
You can find out more about this one by clicking on the picture.
There are three styles of mountain biking – the one everyone thinks of which is downhill riding, free riding, and cross country. If you're a professional cyclist or a dedicated amateur you'll want to buy a bike specifically designed for each style, but if you're a casual cyclist who'll want to try one style one weekend and a different style the next, any good mountain bike will do.
Most people will buy a brand new tool whenever they take up a brand new hobby. This is a mistake. Examine yourself. Have you done this in the past – decided on a hobby, bought all the equipment, used it once – then stored it in your garage and never used it again?
So, if possible, rent a bike first, because you'll be able to try out quite a few bikes and decide on which one you'd like to buy. Make sure that the people renting you the bikes have taken proper care of them, of course, and that they're not just "beaters."
Are You A Beginner?
If there's any mountain biking in your area, chances are there'll be a club or two, which will cater for beginners. The best thing to do is seek out your local bike shop. Anyone there can tell you what goes on in your area. In addition, most bike shops will have racks featuring the brochures of local clubs, and bike maps of the local trails, for free.
Practice Makes Perfect
If you're not in shape – you can quickly get in shape with mountain biking, providing you make an effort to do so.
Set yourself goals of miles to ride each day. If you don't have the time to ride an hour or so everyday, but if you have a steep hill near your home, you can always spend ten minutes or so doing wind sprints up and down that hill. This will increase your stamina and strengthen your leg muscles no end. (Make sure you check with your doctor to make sure you have no health problems that would limit vigorous exercise.)
Don't get on a bike and then find the toughest trail and through yourself down it. Start with beginning trails and work on your skills for a while.
Staying Safe
Riders fall. Face it – it's going to happen. So the most important piece of equipment you have, after a good bike – is a good helmet. Never buy a used helmet – you don't know what's happened to it or how it was treated by the previous owner.
Also of use to the mountain biker are goggles or other eye protection, elbow and knee pads, and good shoes. Always carry a few dollars and some change in your pocket for emergencies, and a phone for just in case, so you can call for help if need be, and make sure you have identification on you at all times. (That last bit of advice is good for any type of biking, or jogging, come to that!) Always be prepared for the worst to happen, and then it [probably] never will.
What Do I Need To Start Mountain Biking?
Here is a list of the absolute essentials, starting with the most important – protection for your head.
Bike Helmet
The bike helmet is a necessary piece of equipment. In mountain biking, it is not a question of if you're going to fall, it's a question of when. And when you take a header over your handlebars, having a secure helmet on your head could well save your life.
Although you can buy most accessories second hand if you so desire, the bike helmet is something that you want to buy brand-new, and make sure that it fits your head properly. And if you do have an accident in which any damage occurs to the helmet, the wisdom is that you should purchase another one. One accident per helmet – that's the rule
Eye Protection
Have you ever been riding on the road and been passed by a car that sends up a spurt of gravel at you? If any of that gets into your eyes, you have to stop immediately to clear your vision. If you're on a trail heading downhill at a breakneck pace, and a baleful bee takes that opportunity to hit you in the eye, the following seconds could end up being very uncomfort
able. Glasses or sunglasses are one solution, but the best method is to wear goggles. Whatever you get, make sure that lenses are non breakable
Hydration System
It's common sense to bring a water bottle with you when you go out on a trail ride. It's very easy to get dehydrated which brings your energy right down. However, in order to drink from your water bottle you have to take your hand off one of the handles, and there are sometimes when you don't want to do that.
A hydration backpack is a good solution. As a backpack you can put all kinds of necessary bits inside of it, and when you need a drink you just reach over with your mouth to the bite valve and take a sip.
Mountain Bike Shorts
These days bike saddles are a lot more comfortable than they used to be. There are saddles made especially for women as well as men, and you can purchase gel-filled saddles that make the hours you spend on your bike a bit more comfortable. But you'll also want padded bike underwear and padded bike shorts, just for extra comfort.
Mountain Bike Gloves
If you fall off your bike (or should that be, when), your hands will probably be the first thing to hit the ground – either a paved road, a graveled road, dirt, mud, bushes…all sorts of hazards that can rip up your hands unless they're properly protected.
Gloves serve another purpose as well, of course. If you're heading down the trail your hands will get sweaty which could cause problems keeping your hands on your bike grips. Wearing gloves eliminates that problem. Gloves are a very handy item to add to your list of what do I need to start mountain biking.
Mountain Biking Shoes
These days there's a shoe made for every sport under the sun, including that of mountain biking. The main difference in mountain bike shoes is the type of sole – designed for the different types of pedals out there: with clips or clipless. The clipless type of pedal requires that your shoes be fitted with special cleats. The shoes need to be durable and comfortable.
Trail Repair Kit
Regardless of what type of biking you do, it always makes sense to carry a bicycle repair kit with you. However, you can 'get away' with not carrying one if you ride on the streets of your city. You'll just be a phone call away from someone who can come and help you if you have a flat, after all.
It's not that easy if you're out in the woods and your cell phone doesn't work. Always have a a multi-tool designed for bike repair, tire levers, and a patch kit for fixing flat tires. However, having a repair kit will do you little good if you don't know how to use the tools! So make sure that after you purchase your kit you familiarize with each of the tools and how to use them! It's easy once you know how.
And that my friends is in a nutshell the basics of what you need to start mounting biking. If you were wondering 'what do I need to start mountain biking,' I hope that I have set your mind at ease.
Please feel free to comment below if you think of anything else one may need.
---