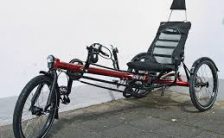 Everyone can enjoy the BerkelBike Recumbent Bikes Range. BerkelBike is well known for their recumbent bikes, and recumbent bikes are great for people with certain disabilities as there is more support and it is easier to balance.
Cycling is great, and it is unfair to restrict this exercise to only non-disabled users. It is in this spirit that BerkelBike recumbent bikes are designed. The design of the recumbent BerkelBike is such that it is actually a hybrid of a hand-cycle and a recumbent bike.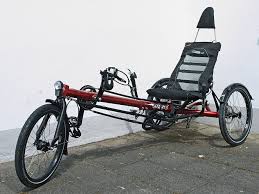 BerkelBike Recumbent Bikes could help disabled people regain their independence.
"My interest in training my muscles through electrical stimulation led me to the BerkelBike. It is an amazing bike that allows me to cycle again, using the muscles both in my arms and legs. The electrical stimulation allows my paralyzed muscles to work."
BerkelBike Recumbent Bikes are designed specifically for people with disabilities. Even people who suffer spinal cord injuries can successfully use the BerkelBike Recumbent Bike and ride their way to better health.
The BerkelBike recumbent bike is unique because it allows the movement of the hands, arms, and legs together. This is indeed a great advantage for those of us who are incapable of any form of exercise with the legs due to some or other disability.
A recumbent usually does not come with a hand-crank configuration and offers only partial exercise to the body. However, the BerkelBike has avoided this trap by having the functionality of a hand cycle combined with a recumbent bike.  For people with spinal cord injuries, a box of software can be installed on the recumbent bike to control the leg muscles that enable them to actively contribute to propulsion. In this way, both hands and legs work together.
The BerkelBike services provided by the recumbent bike are immense. It effectively increases blood flow to the legs, thus providing the strength and capacity for self-repair to the leg. This recumbent bike is also a great way to increase the muscle mass of the leg that might otherwise be completely wasted due to prolonged disuse.
Diabetes and other cardiovascular diseases that are common among people who have not or are unable to exercise can be easily prevented with a daily workout on the BerkelBike.
Improvement of joint mobility, better digestion and an overall improvement in the quality of life and those of the spirit can be achieved by the regular use of this wonder bike.
As a means for the exercise for the disabled, the BerkelBike Recumbent Bike has no competition and is simply the best way to achieve fitness while still in a wheelchair.
Not only is the BerkelBike great for overall fitness of the body of a disabled person, but it can also do wonders for his self-esteem. This recumbent bike can provide mobility far beyond the usual wheelchair allowing physically challenged people to maintain a certain level of independence in the conduction of their daily needs.
The BerkelBike recumbent bike also comes with the option of being attached to a wheelchair. The front of this recumbent bike can easily be attached to any wheelchair thereby increasing its usefulness even more.
You can find out more about the BerkelBike by visiting their UK page.
---