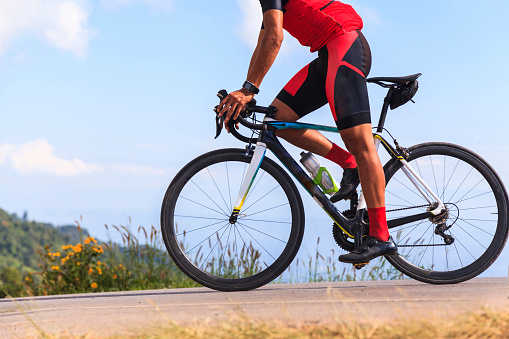 We've all seen them. Cyclists of all shapes and sizes wearing body hugging biking shorts. Is it just a fashion statement, or are biking shorts a necessary item for a cyclist's wardrobe?
This post may contain affiliate links, which means that I will get a small commission if you purchase anything off of this page.
Cycling shorts do come in different styles and materials. Generally they are skin tight, and run down to the middle of the thigh. Most materials used tend to be breathable, allowing sweat and other moisture to leave the body for ultimate comfort while you cycle on.
Ultimately though, the safety and comfort of the cyclist is the primary goal in their design.
Advantages Of Wearing Biking Shorts
While the cyclists of yesteryear rode in traditional trousers and shorts, the design of cycling clothing has come a long way since then. Biking shorts today are designed to be comfortable and help the cyclists performance. Material used help to reduce skin irritations. The designs conform to the body shape, reducing flapping and wind resistance whilst cycling. The body hugging material also works to alleviate muscle fatigue and cramps on long bicycle rides.
Cycling causes friction on the legs due to their constant movement during normal cycling. This rubbing can cause skin irritation, chafing and rashes. Materials used in modern cycling shorts are designed to reduce this friction, as well as to allow moisture to evaporate, giving a more comfortable cycling experience.
The Use Of Modern Materials
Early cycling shorts ere made primarily from wool. Leather patches were added to protect the more vulnerable areas, such as the crotch, from chafing. In modern times, there are many more different and mixed materials used to achieve the same goals. Some of the more popular varieties are synthetic fabrics such as spandex and chamois.
The spandex material in cycling shorts today is made from Lycra and has a lot of stretchy properties. These shorts have a chamois lining which makes them feel softer and protective against the skin for al those sweaty bike rides. The men's and women's cycling shorts have slightly different cuts that provide different fits which makes sense as men and women are vastly different!
One of the styling differences you will find in biking shorts, is the number of panels used in their manufacture. Generally, the more panels a pair of shorts has, the better the fit, and the snugger they will conform to an individual's body shape without stretching or distorting at the seams. Since they are more difficult to make, the more the panels shorts have, the more expensive they tend to be. Cycling shorts also have elasticised hems, to ensure that they remain in position on your legs without creeping up the thigh.
The Bib Shorts
Bib shorts are a type of cycling shorts that many professional bikers and cyclists prefer over the traditional elastic waistband style. A bib that is similar to a type of suspenders holds up the bib shorts. With this different design, there is less chafing and irritation from the waistband of regular shorts. Similar materials are used in the design and manufacture of these bib cycling shorts.
---