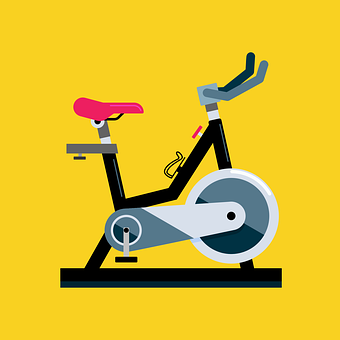 The indoor exercise bike is one of the most popular pieces of exercise equipment sold today, and there are many reasons for this.
This post does contain affiliate links, which means if you purchase anything, I will get a small commission at no cost to you.
If you are lucky enough to own an indoor exercise bike, you will definitely appreciate the convenience, especially when the weather is bad outside, and also you have the privacy that isn't afforded at the gyms. You can wear what you like, and exercise whether it is dark, rainy, snowing, and out of heavy traffic.

Take this Pooboo indoor exercise bike for instance. It has a fully adjustable seat and handlebars, so it will be suitable for anybody in the family to use.
It also has added features like adjustable pedals, elbow supports, and somewhere to put your water.
The modern indoor exercise bikes are all equipped with bike computers to record your speeds, distance, calories, and heart rate, which is great for motivational purposes.
It is also versatile as it has wheels so it can be moved easily wherever you want it.
Simply click on the picture of the bike to find out more.
You can choose between having an upright bike like the one above or a recumbent indoor exercise bike like this Schwinn on the right.
Recumbent bikes are great if you have back issues and there are many benefits to choosing a recumbent exercise bike which you can read about here.

This one on the right has Bluetooth connectivity, syncs with the Schwinn Trainer App and other apps for fitness tracking.
The computer comes with 29 programs and you can load up to 12 profiles. There are also 25 levels of resistance for all fitness levels.
Both upright and recumbent bikes give you a low impact workout that is kind to your joints, but you will need to push yourself consistently to challenge your muscles so that you can see the results you are aiming for.
Cycling can provide great training for the legs, hips, thighs, and butt as well as a great cardiovascular workout.
Tips For Doing Cardio On An Indoor Exercise Bike
It is easy to do interval training when using an indoor exercise bike.
What is interval training?
Interval training is short bursts of intense exertion interspersed with less intense exertion in order to enhance sports performance.
Clinical studies show that this practice also improves the functioning of the cardiovascular system and helps the body metabolize fat, even at low or moderate-intensity training. Football and basketball are two sports that reflect this type of training is successful. You can read more about interval training here.
On a bike you would need to work out a program for yourself where you are doing bursts of strenuous pedaling and then a minute of relaxed pedaling in between. This is a great way to burn fat.
If you have an indoor exercise bike at home, make sure that you use it at least. Put it up in a pleasant part of your home, like somewhere with a beautiful view or even in front of your TV if it helps to workout while watching the news. The important thing is to make sure that you use it regularly and don't let it become a clothing horse.
Stationary bike workouts are ideal for people with knee or back problems as there is less stress on these parts of the body. A recumbent bike reduces virtually all stress on the lower back.
Don't forget that for an all-round program, you will need to incorporate some weight training exercises as well, as these can help you to maintain muscle mass and strength, as well as bone density.
Don't forget to stretch after your workout. Also, make sure you get adequate rest between workouts, your muscles need time to recover after intense workouts.
---