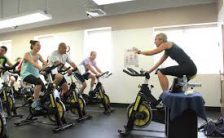 Have you ever wondered about how spinning classes came about? Here I have looked a little into the history of spinning for you.
I am not talking about the history of spinning with yarn type of spinning here, I am talking about cycling classes.
The History of Spinning
While the popularity of spinning, or indoor cycling, has increased in popularity in recent years, there are still many who are unfamiliar with what it entails. An endurance cyclist named Johnny Goldberg (Johnny G) created the concept of spinning in the late 1980's and was the inventor of the spinning bike.
He didn't stop at the invention of the spinning bike, but he continued developing spinning as an entire workout program over the next ten years.
The spin bike has come a long way since its inception, which dates back to the 1980's. Johnny G first put one together after he nearly experienced a collision while riding outdoors at night. The idea was to make cycling safe and accessible to all.
The first spinning bike included a heavy flywheel to replicated the feeling of being out on the road. He started a spinning studio as a result of a number of people who expressed interested in riding his spin bike.
In 1992, Johnny G and his partner John Baudhuin began manufacturing the first Spinner® bikes, and the first Spinnin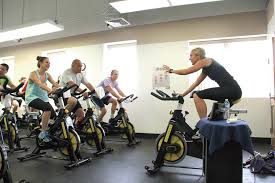 g program was officially offered at Crunch Gyms in New York in 1993.
Johnny G didn't stop at the invention of the spinning bike, but he continued developing spinning as an entire workout program over the next ten years.
The concept of spinning gave people the opportunity to ride indoors during the winter, or when it was simply impractical to be outdoors. Spinning is a way for cyclists to train all year around for their profession, or for those who want to get into shape from the comfort of their own home or at a gym in their area.
Stationary bikes are similar to spin bikes in terms of the cardiovascular benefits they provide, but they are designed differently. A cyclist will gain far more by training on a spin bike that gives a road bike feel. Also, these bikes can help cyclists not only improve their conditioning but their pedaling technique as well.
Normal exercise bikes are limited in terms of handlebar and seat positioning, while indoor spinning bikes offer a lot more freedom. Overall, the design and construction are superior to the standard exercise bike.
Fitness innovator and dancer Karen Voight has since teamed up with Keiser, an exercise equipment company, and made a few tweaks to spinning to make it more available to a wider range of fitness levels. The first spin classes were very intense, and this caused people to feel intimidated because they weren't fit enough to keep pace. Keiser, Voight, and a few others worked together to build a few spin bikes. They also developed spin classes that changed the resistance and tempo throughout so less fit individuals could still keep up.
Since the early days of the spin bike, numerous other brands began manufacturing ones as well. Reebok is one example, and they modeled what they did after Keiser.
Spin classes are now everywhere, from coast to coast. If their is a gym in your area, chances are that a spin class is offered. If not, then you can always purchase your own bike and spin DVDs so you can ride from the comfort of your own home.
---